My First Trip to a Christmas Tree Farm
So, who knew Christmas trees didn't grow in parking lots? Cause I, for one, did not. Most of my life I have had an artificial tree because that's what my mom likes. But they are so overrated right?! We started to get a real one but we always went to a parking lot or a fire station, and even hardware/flower shops. But I have never had the chance to go to an actual Christmas Tree Farm! I have seen so many pictures on Pinterest and, honestly, have been feeling a bit like I was always missing out. But, this year we decided to change it. It was such a great experience! It was a bit of a hike, though, as we headed to good'ole Lehighton, Pa where they are known for their Christmas tree farms. I wanted to share my first trip to a Christmas Tree Farm!
First, we had to decide which type of tree we wanted we picked a Douglas Fir because of its limbs are more sturdy and point upward perfect for holding ornaments. They also have excellent needle retention.
Then we grabbed a saw and headed out! Once we picked the type, we had to find the section of the tree farm that was for all of the Douglas Firs. After finding the right area came the hard part, finding our perfect tree.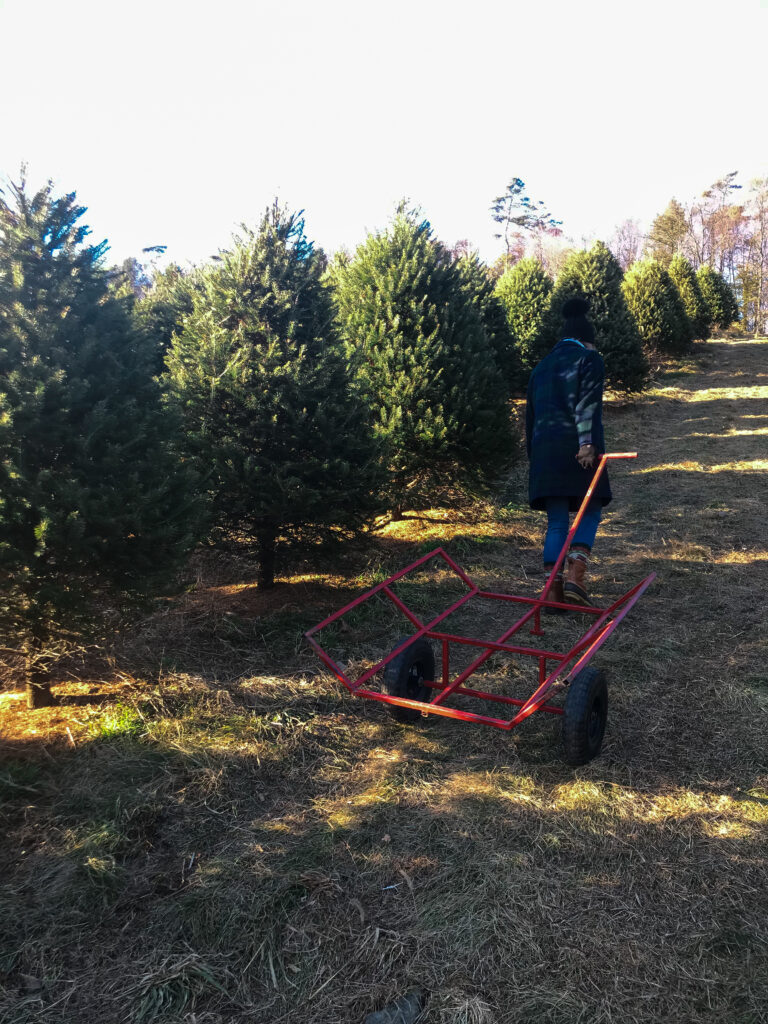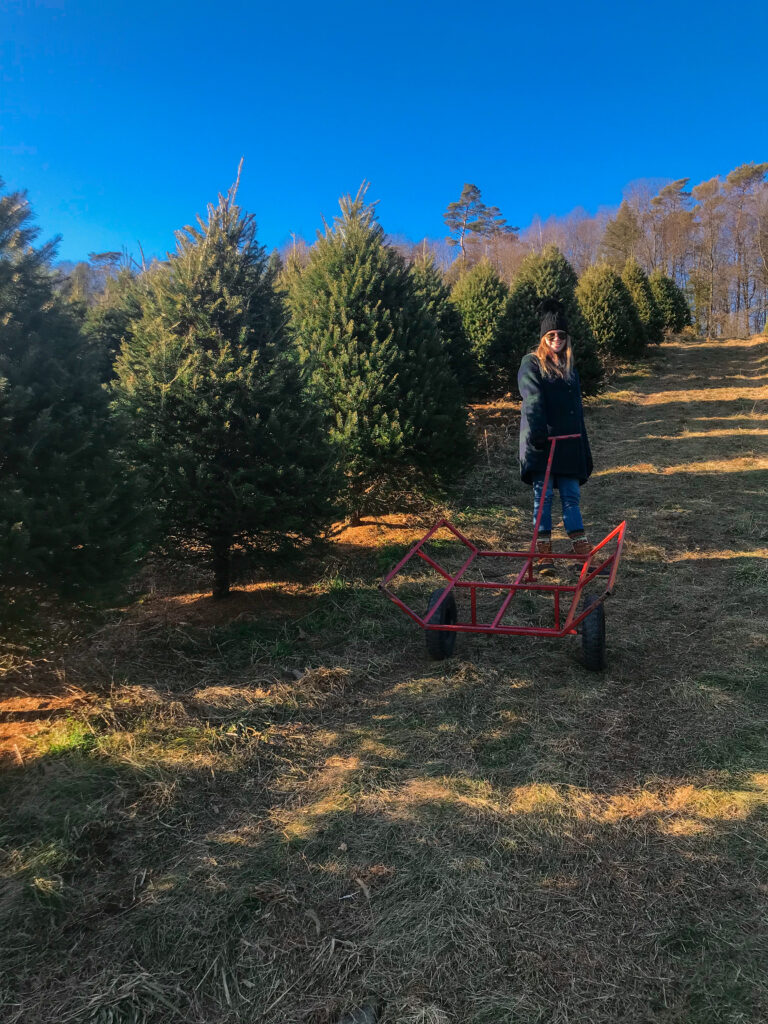 Finding the perfect tree was a lot easier than I thought it would be. I expected to spend hours wandering around looking for the perfect one but it only took an hour or so. But the tree spoke to me! It was full and looked good all around.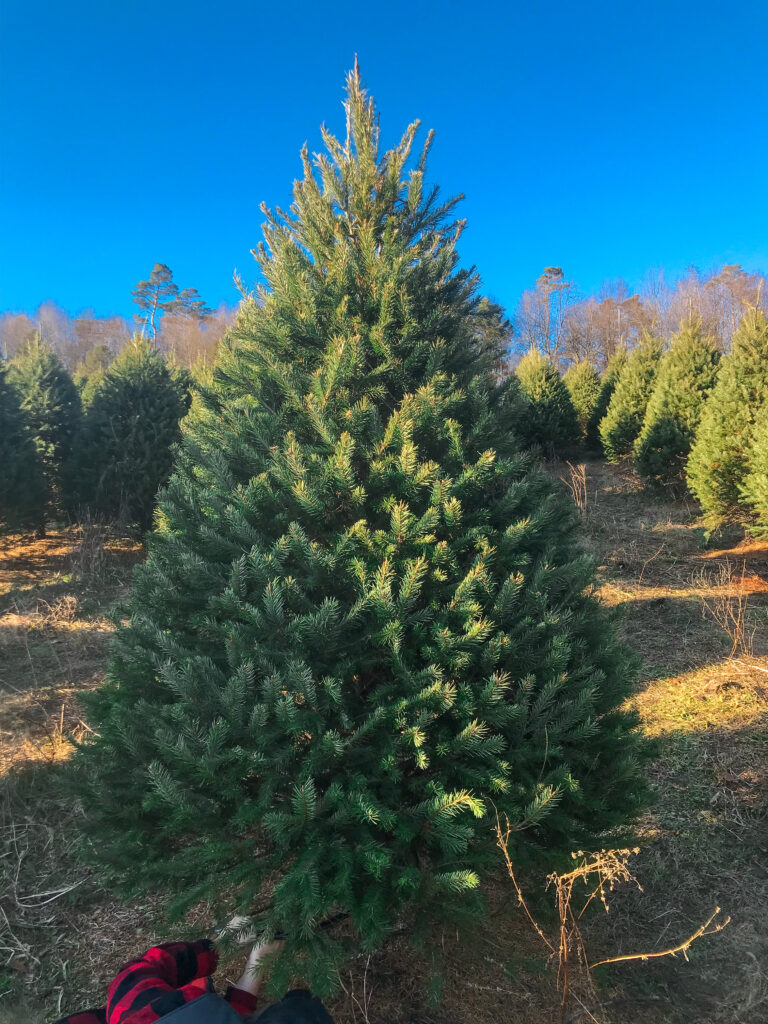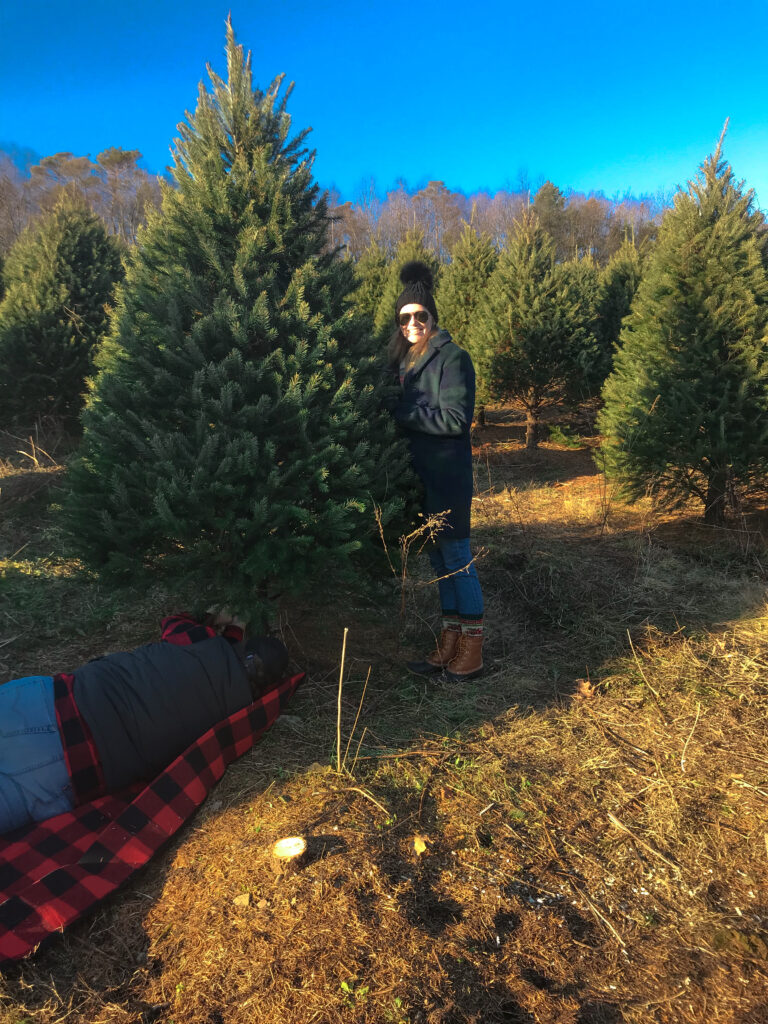 Now came the hardest part (for me at least), the actual chopping down of the tree. Did you know that it is actually better to use a saw? I had this image of using a big ax, but that is not the case. I think I have been lied to by all of these Christmas Movies! But, it is still super hard in my opinion. I'll explain my opinion later because, I had a pretty embarrassing moment with the saw that is pretty much the best description of my life.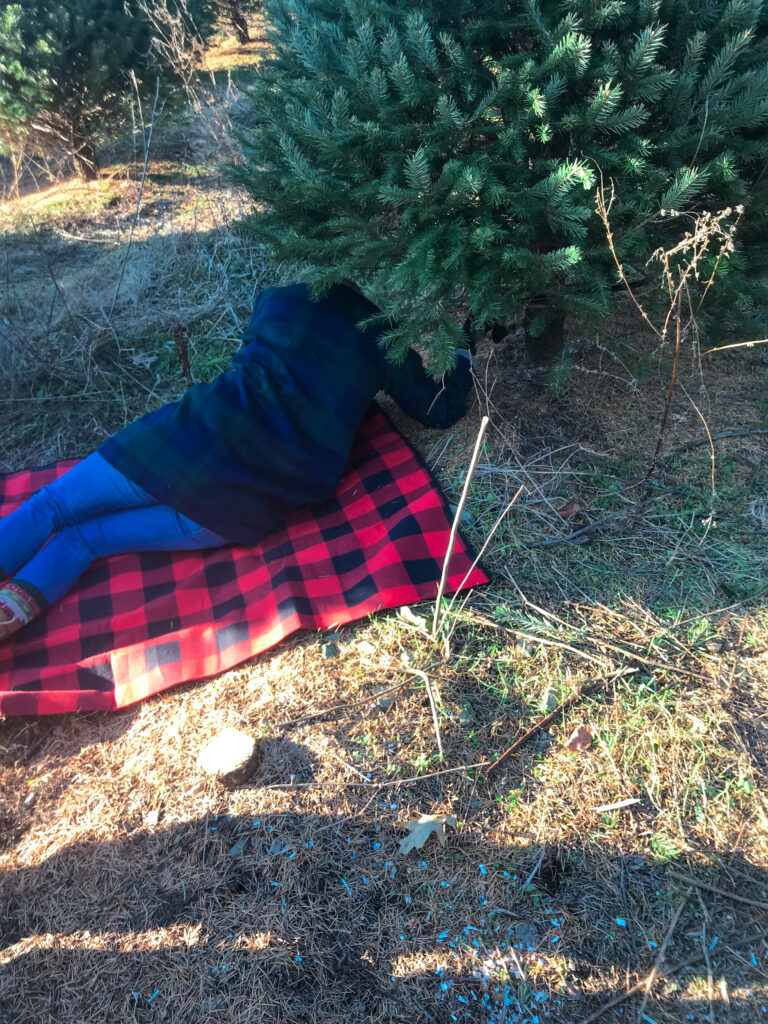 So, I wanted to help with some of the cutting of the tree but, it didn't quite work out in my favor. I wanted to do the last little bit of the tree so I could say that I finally cut down a real Christmas tree but, here's what actually happened… I got under the tree, got the saw all lined up with the existing cut that my boyfriend had started, all I needed was to saw the last little bit. See simple, right?! Wrong! I moved (like legit slid the blanket I was laying on) but didn't move the saw at all. Guess I am a pro! Ha Ha!!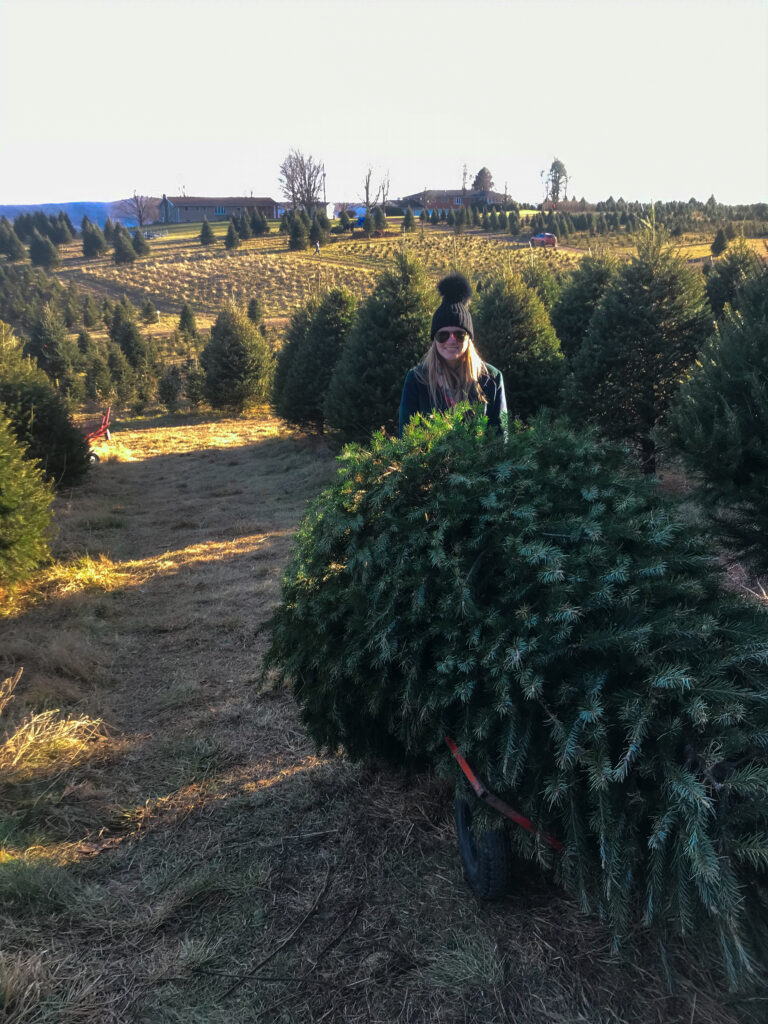 We put the tree on the little cart and pulled it back to the barn where they get it all ready for you to take home. You also can go into a cute little gift shop and get adorable little ornaments. We got our first ornament there! It was a white sparkly ice skate. Since we go ice skating every winter! They also had some hand made ornaments and wreaths.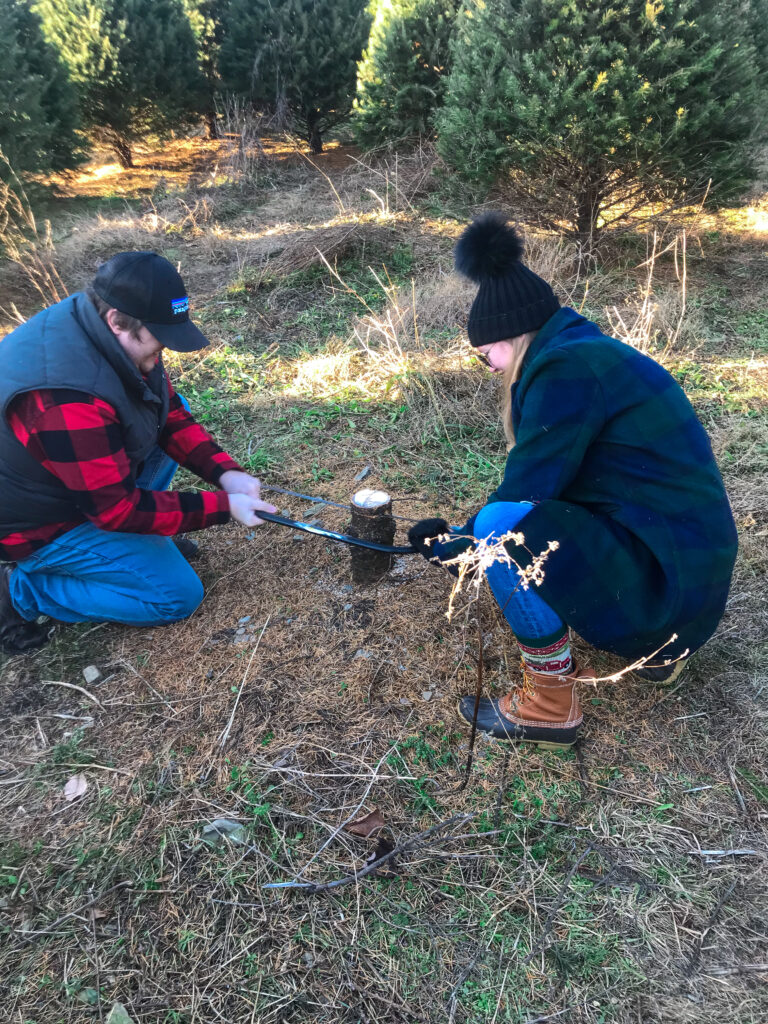 My boyfriend said it is a tradition to saw off another piece of the stump to remember your first time! I think it was just to make me feel better after my attempt at sawing the tree. Because of my little incident with the saw the first time, we worked together to get the final piece. Let me tell you it was a lot of work, but so much fun!! Oh and one thing I would recommend (that we didn't do) is don't forget to grab or bring a measuring stick, (Our tree barely fits in our apartment, we got a little lucky!!) You don't want one too tall for your ceiling, gotta leave room for that star!
Here's what I wore:
Here's what it looked like all decked out! Don't mind my dog photobombing! I can't wait to fill them with memories for years to come.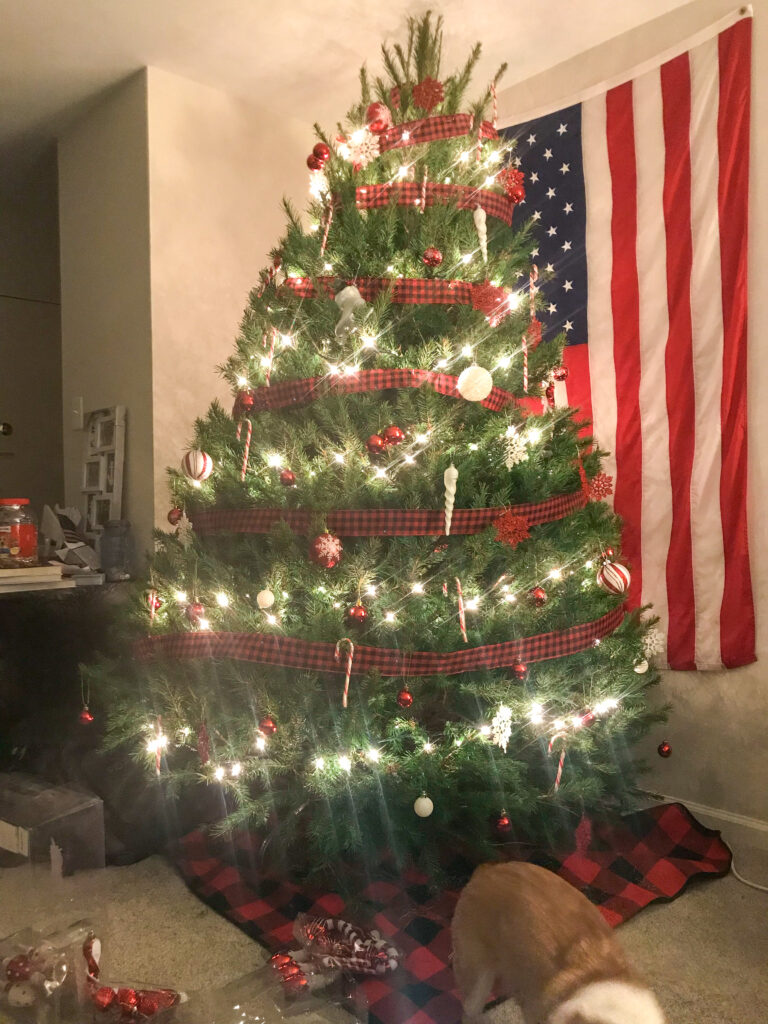 For more Christmas magic and style check out How to Dress like a Hallmark Movie and my super cute Christmas Outfit! Or my super fun list of Winter Activites!
Thanks for reading!
-Kasey