Preppy Back to School Supplies
It's that time of the year again! Summer is coming to an end, and for some, it's ending a lot sooner. Yes, I'm talking about going back to school! And you know what that means? It's time for back to school shopping! This was my favorite part of going back to school. I loved getting everything I needed to start the school year off on the right foot. For those of you who are heading off/back to college. I'm going to talk about a few ways to add a little prep to your school supplies. Here's a list of preppy back to school supplies!
Classroom Must-Haves
Laptop or Tablet: It's up to you but I personally think you need something to bring to class or just to have outside your room! Helps when you have study dates!
Laptop Case or a backpack that has a laptop pouch.
Laptop Stickers: the preppier the better! I made sure that mine express what I like and how I feel. These are effortless ways to personalize your laptop.
Calculator: This is important, well to me at least (I was a chemistry major)! It's important to get a calculator that you will know how to use and make sure its the kind suggested for the classes you are going to be taking.
Vera Bradley Pens: My mom got me these as a gift one year from one of her students. When I borrowed one, I loved the way the wrote and how they fit in my hand. And they were also super pretty. I wound up "borrowing" them all from her to use in school but don't tell her!
Pencils: You can't forget pencils you can get basic plain, wooden pencils, or mechanical pencils! It depends on your preference; I prefer mechanical ones. To add a little prep trying getting pastel colors or even Lilly Print ones. There are even ones that have cute little messages on them! Too many to choose from!!
Backpack: This is pretty much the most basic staple of your back to school supplies! There are so many backpacks out there that it's hard to choose from. Or if you are like me you don't change backpacks that often, but you can always try sprucing up an older backpack with a new monogram on it!
Lilly Pulitzer planner: I love my Lilly planner! It is honestly my favorite planner. This thing helps keep me on track, especially when I have so many assignments due.
Notebooks Lilly Pulizer: I don't know if you have noticed but I'm kinda obsessed with Lilly. I love it so much! So, I tried to incorporate it into every aspect of my life and school was no different. I found some Lilly notebooks on Amazon and just couldn't resist.
**If you like Lilly also check out my post on 6 ways to incorporate Lilly Pulizer in your school supplies**
Lilly Pulitzer To-do list: I also personally love checking things off lists so having one of these is perfect. It works differently than a planner to help keep you on top of things. And since this doesn't have dates printed on it, you can use it whenever even when your projects are spread out over days.
Water Bottle or Cup: It's very important to stay hydrated (or caffeinated) throughout the school year! I had always used Hydro Flasks but now I sware by Yeti but, that's just my preference. My sister only uses Hydro Flasks! There are also the Swell bottles that come in so many different cute colors.
Others to Consider
Lanyard
Pastel or Neon Highlights
Key Chains
Monogram Details for everything (And I mean EVERYTHING)
Travel Coffee Mug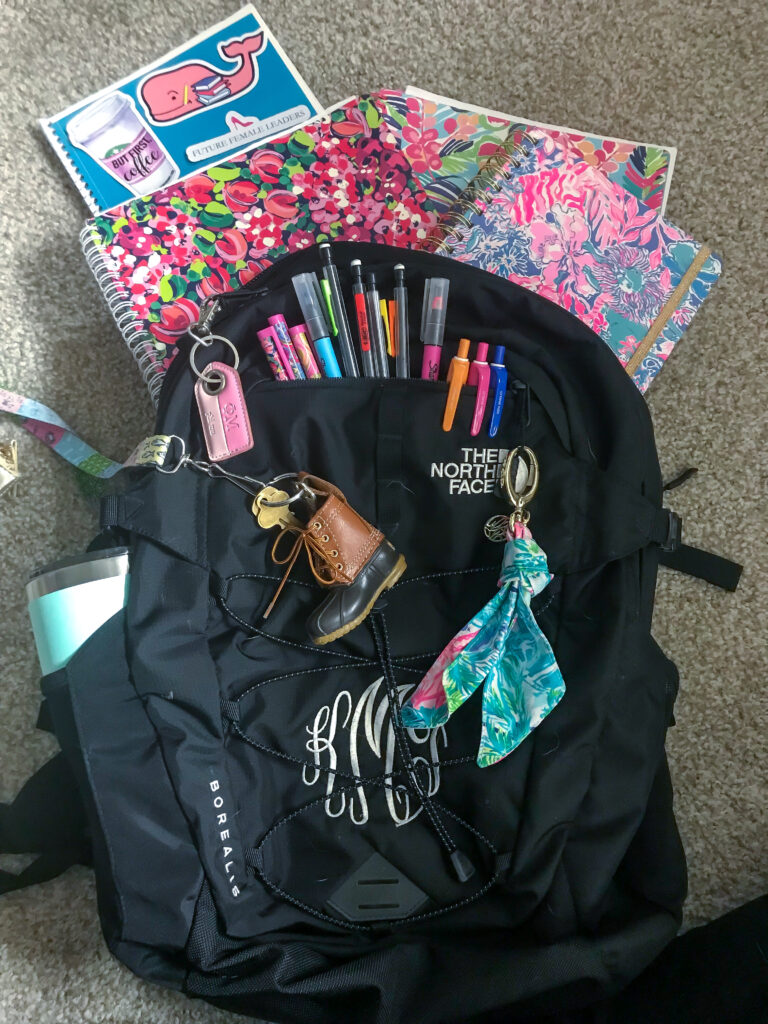 Here are some links to a few of these items!

Hoped you liked my list of preppy school supplies! I know it helped brighten my day when I was in school! It also added a bit more personalization to my stuff and I never got anything mixed up with my friends' stuff!
Thanks for reading!
– Kasey