Guide to Buying Bean Boots.
If you read my post How to Style Bean Boots, you know that I absolutely love my Bean Boots! But, if you didn't, let me tell you they are great! I started out with one pair and figured that was all I needed. But, guess what?! I was dead wrong. I have three pairs and counting (I'm working on getting another pair, but let's keep that between us). When I was looking for my last pair, I did a bunch of research and I figured I would put a post together for the next person who may want to buy a pair. Before I start, L.L. Bean is always making new boots that come and go, while some are classics. The classics are the ones I am going to focus on. So, here it goes, my guide to buying your first pair of Bean Boots!
First, Find a Comfortable Height:
Let's start with the regular old Bean Boot. That's what I started with! They can be seen in the picture below. They come in a couple of different sizes, and by sizes, I mean heights. You have the 6″, 8″, and the 10″. This is the measurement of how high the top of the boot comes up on your shin. My sister and I both have the 8″ but my mom who is a lot shorter got a 6″ because they came up to a comfortable spot for her. I got the 8″ because I liked where they came up to, and they also came in navy! The other two sizes only come in brown.
The leather top on these tends to be stiff when you first get them or try them on. They will give and get more comfortable as you break them in. If you are like my sister (who doesn't like breaking shoes in) and want things to fit comfortably right away, it may be tough to get through.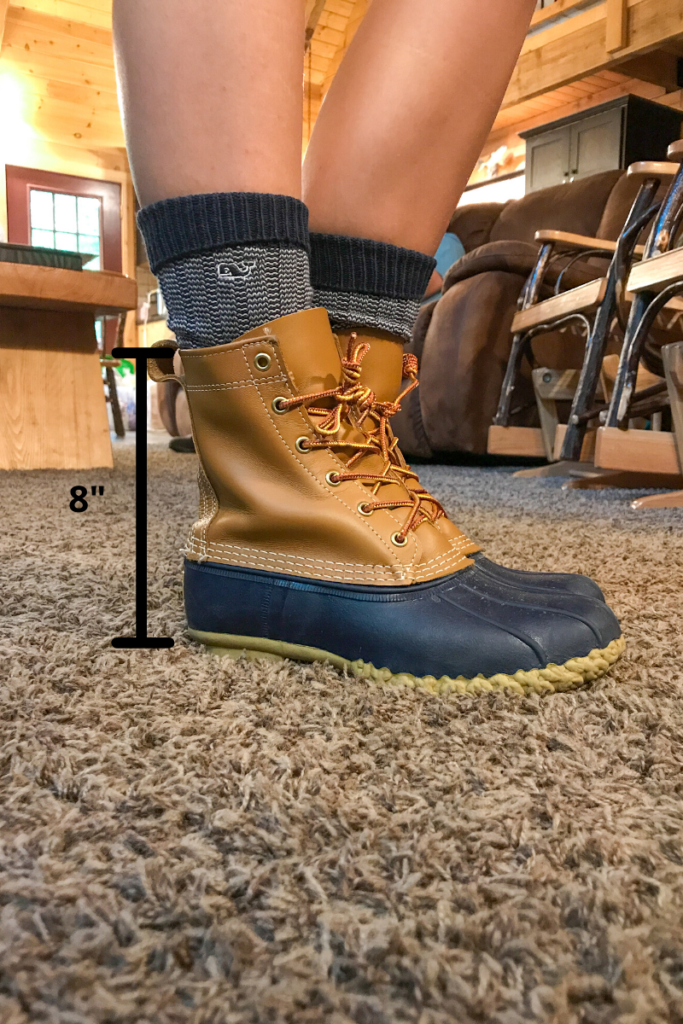 Break Them in or Have Them Broken in:
Now that we got the heights down, let's talk about features. First, I would like to point out how on the normal boots their tongue is attached to the sides of the boots. This is added to make the boots waterproof, there isn't space for the water to get in. So just keep that in mind when we talk about the next ones.
Another option is the tumbled leather on the top. Tumbled means just what you would think it would that it was tumbled to get a more broken-in feeling right away. When my sister was considering buying a pair, this is what I suggested for her. Because, as I said before, she likes shoes to be comfortable right away. Something to think about with the tumbled leather is that they aren't as waterproof as the classics. The tongue is not connected which limits the amount of water that can be kept out. I was told that they are certainly water-resistant but cannot be called waterproof.
Another added benefit to the tumbled leather tops is that even though they only come in an 8″ height they can be rolled down to be closer to a 6″. I tend to roll mine down a lot in the Fall but in the Winter, I wear them regularly for added warmth with my thick, high socks!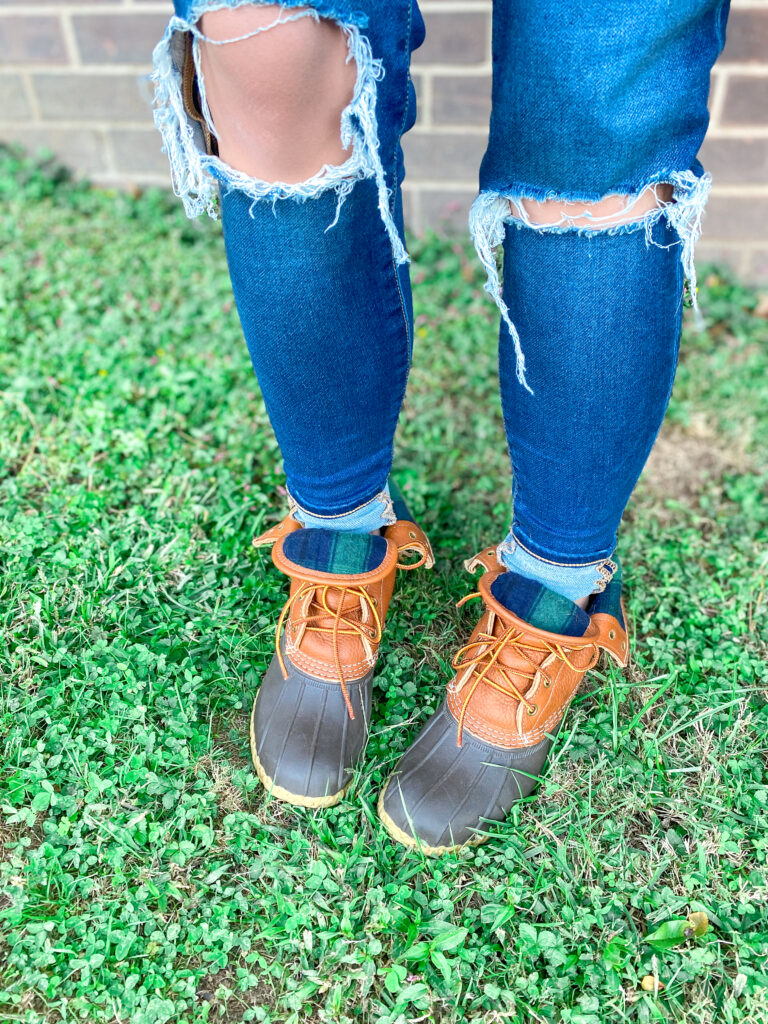 Maybe Try a Lining:
Continuing on the topic of tumbled leather, they come with a couple of different lining options, which is another thing to think about. That is why I will be breaking it down for you.
Let's talk about my personal favorite first, aka the most recent one that I have purchased. They are the chamois flannel-lined boots. These boots have a cute blue and green plaid patterned flannel on the inside of the top part of the boot (this is for women, the men's come with different color options). To me, I think it adds a little bit of extra coziness. But, the lining is not enough to make your feet overly hot.
Next up is the shearling-lined boot. I looked at these when I was trying on pairs for my third purchase. To my surprise, they were completely lined, all the way to your toes! These were different than the flannel ones that only cover the ankles. They will definitely keep your feet warm for the winter.
Lastly, is the Gore-Tex/Thinsulate lined and the Thinsulate lined. These are options for the leather top, not the tumbled leather tops. The Gore-Tex/Thinsulate has a waterproof Gore-Tex lining paired with the warm Thinsulate Insulation so your feet stay warm and dry. The Thinsulate only lined ones are going to give you an extra layer to keep you very warm. I haven't tried these on, but I do have a pair of Thinsulate gloves, and they are so warm.
Or a Different Shape:
And if all of this doesn't sound crazy let me introduce you to the 6″ boot with a padded collar. They are still made with the tumbled leather top but, they also have a black padded collar at the top, very similar to the style of Timberlands. This padding gives a ton of extra comfort to the back of the boot to help with rubbing.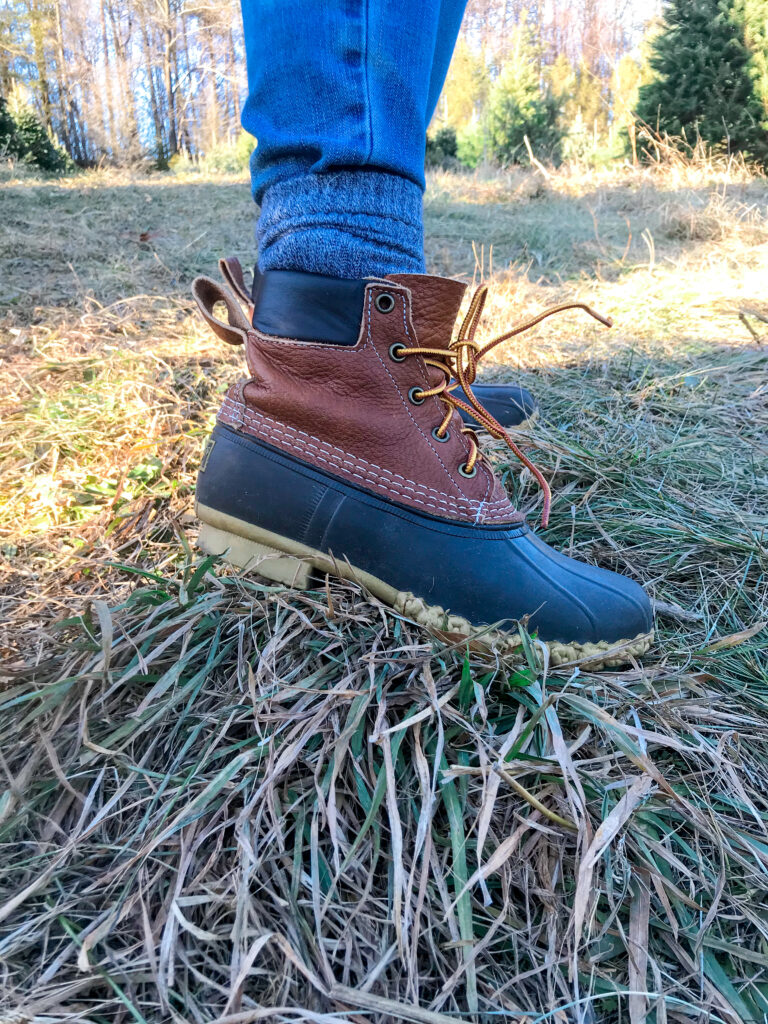 There are also mocs and lounger boots that you could check out. The mocs are pretty much the rubber part of the bean boots just with the top leather part cut off with laces. They can come in two colors just like the 8″ boots (brown and navy). The lounger honestly reminds me of the shape of a cowboy boot. They don't have laces so they can just slip on in a pinch!
Focus on Sizing, It May Vary:
Okay, so now that we got the heights, textures, and linings down, let's talk sizing. Actually, before we do that we need to think about socks. I find that camp socks are perfect for Bean Boots. Wearing thicker socks makes them more comfortable and helps prevent rubbing. So, knowing what socks you want to wear with them is super important.
Now we are at the sizing. Bean Boots have a weird fit for most people so you might need to size up or down. I am a normal 7 1/2 but I tend to wear an 8 in most of my shoes. But in Bean Boots, I am a 7. (I tried on an 8 and it was definitely too big; there was too much room.) I think they pretty much run true to the size where most other shoes tend to run small. They also come in narrow, medium, and wide. I am normally a medium, so I just stuck with that.
Back to the socks, I can wear all different types of socks with my boots from a single low-cut sock, all the way up to two pairs of socks (one of which is wool). I think it's important to go with a size of boot that will fit any type of sock. Also, if you go for a lining like a shearling I'd suggest sizing up because the added lining in the bottom does make it a bit snug.
So, I would say that if you are a whole size get your normal size, and if you are a half size round down!
Don't worry if you get it wrong, L.L. Bean has a great return policy, and they can be returned or exchanged with no hassle!
More Information:
Don't be worried or discouraged if you find out the ones you want to order are back-ordered, most of their classic styles tend to be! This goes especially around the winter when everyone is buying them. I waited four months for my first pair to come since I placed my order around Christmas time. My others I ordered during an offseason, so they came pretty fast. You can also go to the store and they can help you order them! I've always found the staff at L.L. Bean to be super helpful and knowledgeable when I came in looking for a new boot.
Here's a fun fact that I learned when I bought my last pair: Each boot is handmade in Maine (like they were from the beginning) and sometimes you can get a little note that tells you the name of the person who finished up your pair. I found that to be so cute!
There are also tons of small-batch boots to choose from, they are always so fun! With small batches, they only make a certain number of them and when they sell out, they are gone. I have a pair of small-batch ones from when they did a collab with Flow Free. They are always offering a new take on such a classic style, so keep on the lookout!
I know this is a lot of information so, here's a graphic for buying Bean Boots to break it down better!
Shop this post by clicking the pictures below or any of the links throughout the post!
Now, if you know what boots you are going to buy, here's how you can style them! Check out my Duck, Duck, Boots! post on styling duck boots.
Thanks for reading!
– Kasey